Distance: 55km | +2,600m gain
You can check out the Google Map for the event with the key locations HERE.
Start time: 4:00AM, Saturday, 21-10-2023
Star location: Pho Doan (Ba Thuoc District) – Google Maps
Cut-off: 02:00PM (CP4) – 06:00PM (CP6) – 07:30PM (CP7) – 09:00PM (CP8) – 11:59PM (FINISH)
Finish: Ban Hang Race Village (Quan Hoa District) – Google maps
Qualification: Open to experienced runners at least 18 years old on race day. To run VJM 55km, you must have previously completed at least 1 full marathon (FM) or longer event before the race. Please provide the link to your official qualifying result. If you plan to run a qualifying race between now and VJM, you may send us your qualifying result no later than 30 days prior to the race day. The race must be an official race, not a virtual race / club run.
Failure to do so less than 30 days prior to race day will result in refusal of entry and no refund. 
Course description
Click HERE for full course description.
New for 2019, the 55km offers an ultra distance route of extreme beauty. It cuts out some of the toughest parts of our longest route, but make no mistake – this is still a very challenging ultra!
Racers will start running with strong headlamps into the darkness and soon the long first climb up to Bo Dieu village will begin. This is a very serious and steep climb which it is not possible to run up. Runners must conserve their energy here! At the top the route turns downhill onto a descent into the river valley.
As the sun rises runners will race into the picturesque village of Ban Hieu. This fairytale settlement features traditional stilt houses which dot the hillside and a turquoise river with rapids and waterfalls which cascades down to the valley floor.
After reaching the top of the climb you will enjoy sweeping views of the valley before descending back down and running through a broad rice-filled valley which will be a magical gold colour at the height of harvest season.
After a climb into the Nature Reserve you will face a tough jungle section with some narrow, technical trail and a very steep climb we like to call 'The Spike'.
Before reaching Kho Muong you will be rewarded with an utterly spectacular view of a valley ringed with incredibly steep, jungled limestone mountains. During the end of October, the colours of the rice fields are beautiful, so the knockout views from the lookout point will make all but the most fiercely competitive stop for a photo opportunity.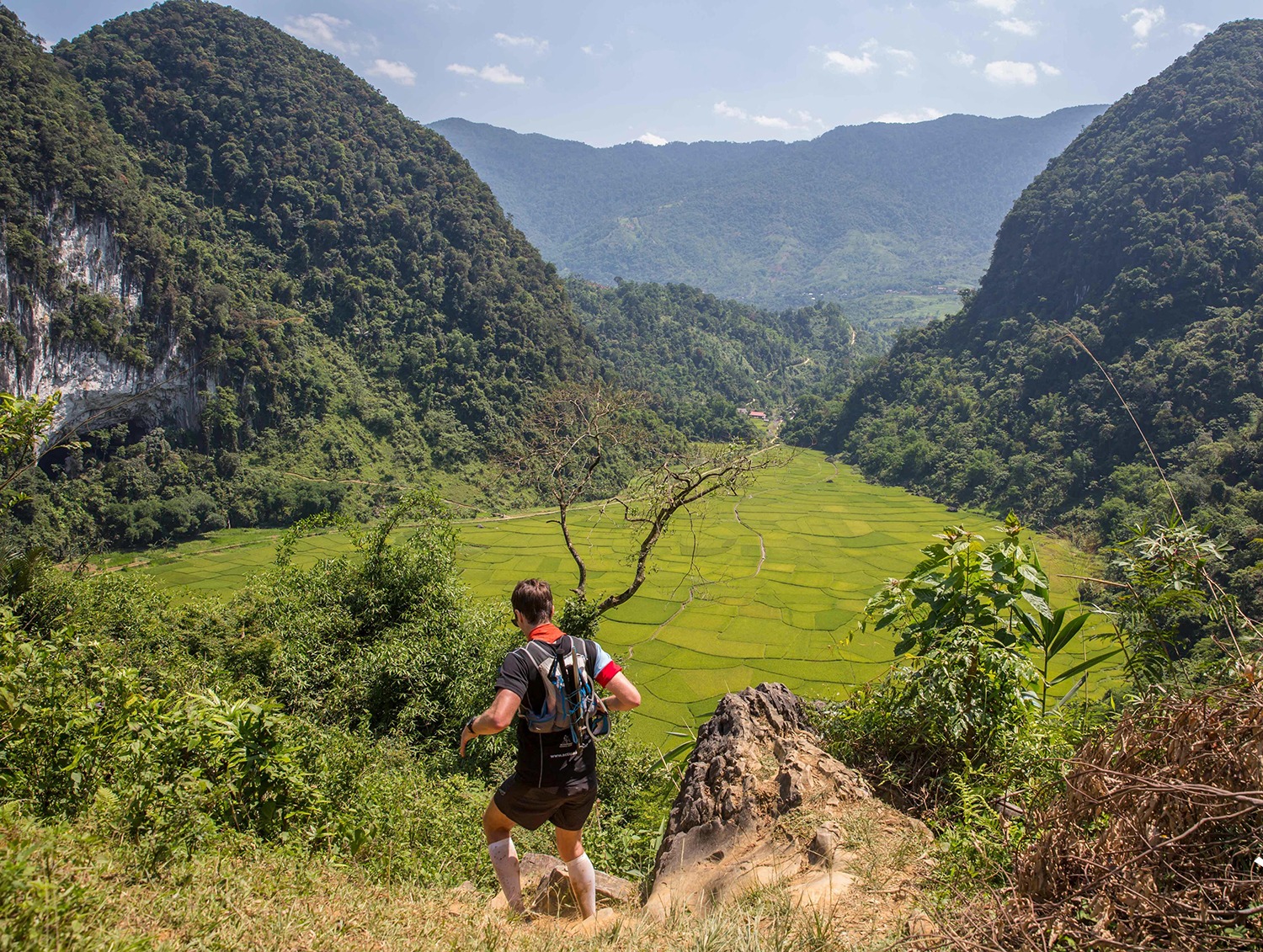 The descent down to the valley here is very technical and will require care. Once down in the valley a flat section of beautiful trail leads through the picturesque village of Kho Muong from where you will face a long final climb before a short hilly tarmac section.
After descending back down into the Nature Reserve on 'wonder trails' you will reach another small settlement and from here you are on the finishing stretch of trail through a breathtaking valley. After crossing some bamboo and wood bridges you will be on the home run to the Ban Hang Race Village where a well deserved meal and the finish party await.
Choose your race distance
RACE DISTANCE
EARLY BIRD FEE
(20/03/2023 – 17/04/2023)
Entry + Ban Hang Package
(20/03/2023 – 17/04/2023)
STANDARD FEE
(From 18/04/2023)
Entry + Ban Hang Package
(From 18/04/2023)
CỰ LY
Đăng ký sớm
(20/03/2023 – 17/04/2023)
Combo vé chạy + gói Bản Hang 3 ngày
(20/03/2023 – 17/04/2023)
Phí tiêu chuẩn
(Từ 18/04/2023)
Combo vé chạy + gói Bản Hang 3 ngày
(Từ 18/04/2023)
10km
VND 1,350,000
(~USD 59)
VND 4,600,000
(~USD 198)
VND 1,550,000
(~USD 69)
VND 4,800,000
(~USD 208)
25km
VND 2,500,000
(~USD 109)
VND 5,750,000
(~USD 248)
VND 2,950,000
(~USD 129)
VND 6,200,000
(~USD 268)
42km
VND 2,700,000
(~USD 119)
VND 5,950,000
(~USD 258)
VND 3,200,000
(~USD 139)
VND 6,450,000
(~USD 278)
55km Ultra
VND 3,200,000
(~USD 139)
VND 6,450,000
(~USD 278)
VND 3,650,000
(~USD 159)
VND 6,900,000
(~USD 298)
70km Ultra
VND 3,400,000
(~USD 149)
VND 6,650,000
(~USD 288)
VND 3,900,000
(~USD 169)
VND 7,150,000
(~USD 308)
**Group Registration Discount |
Ưu đãi đăng ký nhóm
10-49 runners | 10-49 người
5%
5%
50+ runners | Từ 50 người trở lên
10%
10%